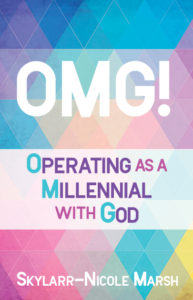 "God will meet you where you are to take you where He wants you to go."
–Tony Evans
Written by a millennial for millennials, OMG! Operating as a Millennial with God offers encouragement, insight and instruction to develop a personal relationship with God. Filled with Scriptures, prayers, reflection questions and journaling on topics including fear, faith and forgiveness, OMG! is a must-read for youth, parents and ministry leaders.
In this book, you will learn:
Strategies to turn your pain into purpose
Who God says you are
God's strength has no limits
Youth and boldness for Christ can be one and the same
Youth and boldness for Christ can be one and the same
"I applaud Skylarr. She crafted the perfect book to encourage, empower and inspire young ladies to live their best." —Karen M.R. Townsend, PhD
"OMG! gives hope and authority to youth who thought they were alone and powerless." —Phillitia Charlton, personal development coach
"Skylarr's messages align with Scripture to help catapult a reader's spirit. OMG! delivers!" —LaTonya Branham, PhD
"OMG! is for anyone attempting to overcome obstacles while pursuing their dreams." —Bobbie Watkins, author
ISBN-13: 978-0-9962991-2-1
Retail: $12.95
Available now on Amazon.