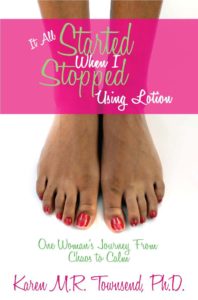 When was the last time YOU were the priority?
During a long-overdue spa visit, Karen shared with the pedicurist that she had developed a callous down the center of her left foot. He examined it and asked a series of questions.
"Do you do a lot of walking?"
"Yes, but I have always walked a lot."
"How often do you wear high heels?"
"Every day, but I have worn high heels everyday for years."
"When you take baths, do you use a pumice stone to smooth your feet?"
"When I take baths? A bath? I don't take baths anymore. I just don't have the time."
Wife, mother and entrepreneur, Dr. Karen M.R. Townsend invites you to join her on the journey from "chaos to calm." After juggling a schedule so hectic that she couldn't even find the time to put on lotion, she stumbled upon a solution that will help you make a commitment to TiME: Time for ME!
In this book, you will learn
How to set boundaries so that others will respect your TiME

Creative strategies for saying "NO!" to requests that drain your time and energy

The importance of  saying "YES!" to yourself

The true meaning of "PMS"

Fifty-two ways to put more balance into your life and more!
 Available Now!  DrKarenTownsend.com and Amazon
ISBN-13: 978-0-9817436-5-3
Retail: $12.95