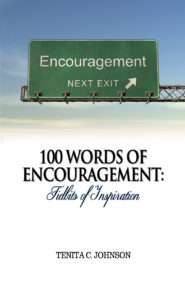 Who's in the Driver's Seat?
You don't need a global positioning system (GPS) with God as your guide. With Him in the driver's seat, you are always headed in the right direction—His will. He knows your beginning and ending and He's the best one to lead you to the desired end. So take your hands off the steering wheel, slide over to the passenger seat and let Him drive. He'll get you there safe and on time!
"A must have… in your life."
~ Kim Brooks, author of He's Fine, But is He Saved?
"100 Words of Encouragement is for those who want to stay encouraged, motivated and inspired to live the abundant life that God came to give."
~ First Lady Crisette Ellis, Greater Grace Temple (The City of David) in Detroit, Michigan
"Tenita Johnson delivers… periodic introspection."
~ Venus Mason Theus, author of How to Have a Joyfully-Ever-After Marriage and Brown Paper Bag
Available now at  SoItIsWritten.net and Amazon.
ISBN-13: 978-0-9825984-0-5
Retail: $9.95